Barracuda Message Archiver for Microsoft Azure

Protect Your Email Infrastructure with Microsoft Azures

Sorry, this product is no longer available, please contact us for a replacement.
Overview:
Moving your IT Infrastructure to the Cloud? Utilizing Microsoft Office 365? Running on Microsoft Azure?
Barracuda Networks is your partner for various kinds of deployments in Microsoft Azure. We understand your IT needs and we're acknowledged as "Microsoft Partner - Gold Application Development." We are also "Microsoft Azure Certified."
Barracuda Networks and Microsoft Azure
Barracuda Networks was the first Microsoft Azure Certified Security Solution Provider. The Microsoft Azure Certification assures that the Barracuda Solutions have been tested for readiness and compatibility with Microsoft Azure public cloud, Microsoft Cloud Platform hosted by service providers through the Cloud OS Network, and on-premises private cloud Windows Server Hyper-V deployments.
The Microsoft Azure Certification brings customers several benefits
Time of deployment is cut by 50-80%
Ease of deployment increased by 90%
Deployment bandwidth requirements are reduced to near-zero
Current and future Barracuda on Microsoft Azure products allow both evaluation and purchased licenses at deployment time
Microsoft works closely with Barracuda engineering, solutions architects and sales teams to create a great customer experience and make it easy for customers to leverage the Barracuda NG Firewall, Barracuda Message Archiver and Barracuda Web Application Firewall to move their applications into the Azure cloud securely.
The Barracuda Message Archiver and Barracuda Message Archiver offer best-of-breed email management, archiving, and security for organizations utilizing Microsoft Office 365. And there is more to come - stay tuned and learn about the latest innovations from Barracuda Networks and Microsoft Azure.
Be sure to move your Email Security solution with it-Barracuda Email Security & Email Management on Microsoft Azure.
Barracuda's email solutions complement the existing security and archiving capabilities in Office 365's native anti-spam and antivirus solutions. With advanced functionality to provide granular email management, real-time threat protection, and extended email availability, Barracuda's security and storage offerings give organizations peace of mind in having complete control of their cloud-based email infrastructure.
Cloud-based email services like Office 365 are an attractive solution for organizations looking to provide optimum email service for their users at predictable costs. The Barracuda Message Archiver enhances user productivity and reduces cost and risk by simplifying user access, email management, and eDiscovery/compliance. The Barracuda Message Archiver offers customizable email retention rules and allows organizations to designate auditors to apply litigation holds on specific information. Litigation holds preserve the data from being tampered with until the litigation hold expires or is removed. Running your Message Archiver in Microsoft Azure, provides an easy and secure way to archive mail from cloud-based email services like Office 365. This innovation gives organizations a secure conduit from their cloud email provider to an archive running in the Microsoft Azure cloud; this provides a cloud-based solution for customers who want to move many, if not all services offsite.
The Barracuda Advantage
No per-user or per-server fees
Mobile applications for anytime/anywhere access
Outlook Add-in for combined mailbox and archive search
Automated discovery and import of PSTs
Attachment and whole message stubbing
Product Spotlight
All-in-one, cloud-connected message archiving appliance
Improves mobile user access and productivity
Eliminates need for PSTs
Reduces email storage costs
Federated Search simplifies eDiscovery and compliance
Cloud-Connected Archiving

The cloud-connected Barracuda Message Archiver uses the Barracuda Cloud to move or copy data to the cloud. Setting policies in "mirror" mode replicates all data to the cloud for disaster recovery purposes. Setting the policy to "Rotate" mode allows the appliance to scale-up and use the cloud as a secondary tier of storage.

Simplify Email Management

Users treat mailboxes as filing cabinets, driving expensive server storage to expand continually. They respond to storage limits by archiving messages locally with PSTs, which are not managed (or even seen) by IT. The Barracuda Message Archiver dramatically reduces demand for email server storage through attachment stubbing, message/ attachment deduplicaton, and compression, while also eliminating the need for PSTs.

Streamline eDiscovery and Compliance

The Barracuda Message Archiver's indexed archive supports extensive search, auditing/ permissions, legal hold, and export helping facilitate eDiscovery and retention. An intuitive interface and powerful feature set shortens response time to ensure messages are found easily when needed. Federated search lets users search across appliances and cloud-based data even when email services are unavailable.
Deployment:
Users can search and retrieve archived messages anywhere, anytime.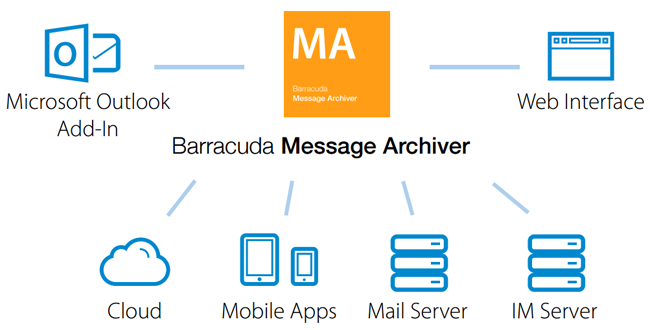 Model Comparison:
Microsoft Azure
Level 2
Level 5
Level 6
Capacity
Container Size
A2 - Standard
A5 - Standard
A6 - Standard
License Type
BYOL Marketplace
BYOL Marketplace
BYOL Marketplace
Storage Capacity
1 TB
3 TB
7 TB
Recommended Number of Users
500
1,000
2,000
Features
Comprehensive Archiving
Integrates with Office 365
Federated Search and Retrieval
Granular Retention and Legal Hold
Integrated Cloud Storage
Exchange Stubbing
Reporting and Statistics
Policy Management
Intelligent Storage Manager
Roles-Based Interface
Folder Management
Mobile Apps
Stackable Appliances
Technical Specs


Archiving
SMTP messages, Exchange calendar, tasks and contacts
Network crawling for PST import
Reports: volume, storage utilization, violations, usage
Mirror and extend storage to the cloud
Stack multiple appliances for increased storage and deployment flexibility


Access
Full-featured, robust mobile apps (iOS, Android)
Outlook add-in
Web interface
Quickly restore messages with Resend to Me


Integration
Exchange journaling
Import from Exchange (MAPI)
Import via IMAP and POP3
Export via PST or EML
Export to Copy (www.copy.com)
Cloud email services (Office 365, Google Apps) via Cloud Relay
Integration with LDAP


Virtual Appliance
Hardened OS
Common Hypervisor support, including VMware and Microsoft


Management
Predefined roles
Granular control for access and policy
Domain-level auditor
Standard and custom policies
- Foul language
- Personal email use
- Personally identifiable information
Violation alert digests
Retention policies
Legal hold


Message Search
Full text search with multiple operators
Metadata, contents, attachments
Reusable saved search
Tagging
Federated search across appliances and cloud
Reply to, forward and export messages


Efficiency
Exchange stubbing
Deduplication
Compression
PST consolidation
Support Options

Barracuda Energize Updates
Standard technical support
Policy definition updates
Document definition updates
Virus definition updates
Security updates
Pricing Notes:
All Prices are Inclusive of GST
Pricing and product availability subject to change without notice.