VMware vCloud Air

Easily Extend Barracuda Solutions to VMware vCloud Air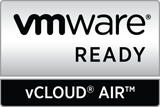 Barracuda security and storage offerings can now be deployed in VMware vCloud Air. With VMware Ready-vCloud Air products, Barracuda simplifies customers' migration to the cloud, seamlessly transitioning their workloads to this leading hybrid cloud provider. Barracuda is a member of the access tier of the vCloud Air ISV program and is listed on the VMware Solution Exchange.
Leveraging hybrid clouds has substantial benefits and everyone wants to take full advantage of them. Since Barracuda's NG Firewall, Web Application Firewall, Spam Firewall, and Message Archiver can easily run on VMware, these products can easily make the move with you. This provides an easy transition for your critical workloads.
Realizing all that VMware vCloud Air has to offer has never been easier:
Barracuda Networks and VMware vCloud Air - Better Flexibility Together
VMware vCloud Air is a public cloud platform built on the trusted foundation of vSphere; it's compatible with your on-premises virtualization deployments. This makes it easier to extend existing workloads to the cloud, and spin-up new application VMs. The point is, you have flexibility with VMware and Barracuda's product portfolio mirrors that flexibility. Our products can be deployed as a virtual appliance within your own data center or within vCloud Air. Our security and storage solutions can be configured wherever your workloads need protection and availability. There is no need to learn a new hypervisor to run our offerings or encounter new vulnerabilities because your storage and security solution is not cloud ready.
Being Cloud Ready
Barracuda NG Firewall, Barracuda Web Application Firewall, Barracuda Spam Firewall and Barracuda Message Archiver, have achieved VMware Ready-vCloud Air status. This designation indicates that the products have undergone technical validation within the vCloud Air environment, and are supported on VMware vCloud Air.