VIAAS Vari-focal Dome Network Camera

Simple, Intelligent Surveillance
Sorry, this product is no longer available, please contact us for a replacement.
Overview:
The Simplest Way to Protect Your Most Important Assets
VIAAS is a complete cloud-based video surveillance solution that captures high quality video images in almost any situation and records to VIAAS's secure cloud. The video is automatically encrypted and can be viewed from any web browser or mobile device.

Plug a VIAAS camera in, and it automatically connects to the service and starts working - without network or camera configuration. With no special hardware or software to install, VIAAS is the fastest and simplest path to on-premises security.
Monitor Unlimited Sites from the Cloud
With no limits on cameras, locations or users, VIAAS allows you to deploy surveillance seamlessly at one or many sites at a pace that meets your needs. There are no channel or cloud data storage limits. Multi-site, multi-user surveillance is managed through a single web-based user interface.
Includes cameras, mounts, online video storage
Zero-configuration: Just plug the cameras into any broadband Internet connection
Video is encrypted before it's sent to the cloud
View video from any web browser or mobile device
Feature-Rich Motion-Sensitive IP Cameras Automatically Capture Only What Is Important
VIAAS cameras record video only when something happens and ignore hours of nothing. For each video segment, motion tracking captures key images. The images show you what the video segment is about without even watching the video. We call the combination an IntelEvent™, which is one of many unique VIAAS advantages.
IntelEvents™ make VIAAS fast and easy to use even over low bandwidth connections. You find what you are looking for by scanning the images. When you have narrowed your selection, you view the video with a single click.
Capture High Quality Images in Any Lighting - Even in the Dark
VIAAS cameras deliver great images in almost any situation. The ultra-wide dynamic range sensor provides great images in even the toughest day time lighting situations.
A built-in IR Exchanger and B&W extended exposure night mode provides solid low light performance. With an external IR Illuminator, VIAAS cameras can see in the dark. More importantly, VIAAS cameras are an integral part of the VIAAS service so you get real value from the video, not hours of wasted time.
Easy to Use and Affordable
VIAAS is not only affordable to purchase, it is affordable to own. To minimize future upgrade costs, VIAAS remotely manages and updates the cameras with ActiveSoftware so your camera is always up to date.
Network bandwidth can be a significant, hidden cost to owning video surveillance systems. VIAAS utilizes patented Bandwidth Shaping™ to run on remarkably little bandwidth. VIAAS cameras are easy on your network when you need it. They initially encrypt and store recorded events in the camera and then move those events to the Cloud service at a rate and schedule that you set based on your network needs.
Features: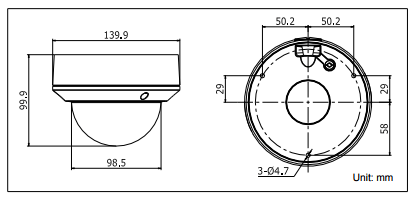 Simple and Scalable Cloud Service
Powered by the Secure Cloud
CudaCam is an online service for video monitoring. All of your video is available by simply logging into the service at CudaCam.com. The service runs in the cloud, not on systems in your back office.
By plugging your cameras into the secure cloud, you get the benefits of a much lower up-front cost, higher reliability, lower maintenance and continuous updates to the latest features.
Centralized, professionally operated service on enterprise class hardware provides high reliability and uptime.
Managed service never gets obsolete. CudaCam is constantly getting new features, to the service and to your cameras
No fixed camera limits let you scale as you go. One, two, ten, fifty, CudaCam supports any number of cameras.
Smart Plug-and-Play Cameras
Plug a CudaCam camera in and it automatically connects to the service and starts working, without network or camera configuration. CudaCam remotely manages and updates the cameras with ActiveSoftware so your camera is always up to date.
Unlimited Cameras, Storage, Locations and Users
CudaCam can scale to any size and your surveillance needs grow. There are no channel or data storage limits. There are no limits on the number of cameras that can be installed or locations that can be monitored. Install cameras when and where you need at a pace that meets your requirements. Never again worry about running out of storage or channels.
No camera limits (install as many as you like on your schedule)
No cloud data storage limits on video (storage is defined by days stored - 7, 30, 60 or 90)
Unlimited locations can be managed through a single account
Unlimited users can access a single account
Offsite Archiving Using the VideoVault
One of the greatest benefits of using CudaCam is video and images are reliably stored off-site in our VideoVault. Your video is reliably stored in the security cloud, the same data centers trusted by millions of users and over 200,000 businesses with their critical business data. Your video is available when you need it and protected from unauthorised access and modification at all times.
Safeguard Your Privacy with Video Encryption
CudaCam cameras help guard your privacy. Everything recorded on the camera is fully encrypted, and it remains encrypted at all times - on the SD Card, on the internet, and in storage.
From the moment CudaCam cameras record video or images, they are encrypted and digitally signed with a highly secure stream cypher. The video and images remain unmodified, fully encrypted, all the way into the VideoVault. Your video cannot be accessed on the camera, during transmission, or even if somebody gains access to the files in storage - you are protected every step of the way.
An important aspect of the CudaCam encryption model is it provides a unique signature for every asset. The signature assures the time and location of the imagery and the media itself cannot be modified without detection. When using recorded video in legal proceeding, the ability to conclusively prove the time, date, location, and veracity of the video is crucial.
Access Video Anytime, Anywhere - Even in Extremely Low Bandwidth
You can access CudaCam in two ways. For PC class browsers - whether, Mac, Windows, or Linux, the Flash-based user interface provides fast navigation, fully motion video, and other powerful features.
From a mobile device, log into m.CudaCam.com and get access to all your data in a fast, lightweight, customizable user interface called Universal CudaCam. Universal CudaCam needs only basic browser functionality and can run on extremely low bandwidth, but still provides you with immediate access to your live or archived video.
High Performance and Reliability
Capture High Quality Images in Almost Any Situation
CudaCam cameras capture commercial quality HD images in almost all situations. You get glare-free images in bright sunlight and clear images in low or variable light. There is even an IR illuminator for full night vision. Wide-angle, deep focus lenses ensure complete and focused image capture.
Motion Detection
Power over Ethernet (PoE)
Infrared Capabilities
Onboard Storage
128-bit Encryption
Wi-Fi or Wired
Exceptional Low-Light Performance
Eliminate Single Points of Failure
Traditional surveillance technology often requires complex hardware and software that must be set up and which could get stolen. CudaCam eliminates most failure points in DVR-based surveillance systems:
No DVR/NVR which can get stolen
No complex software that can fail
Cameras continue to record even if your network is down
Reliable cloud storage and management
Service automatically monitors cameras and notifies you if a camera is not working correctly
IntelEvent Motion Capture Technology
CudaCam cameras capture video when something happens, and ignore hours of nothing. For each video segment, object based motion tracking captures a key image. The image shows you what the video segment is about without even watching the video. We call the combination an IntelEvent, and they are a key part of how CudaCam works.
Bandwidth Shaping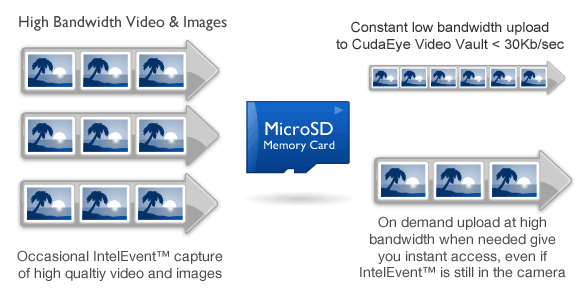 CudaCam cameras are fast and easy to use even over low bandwidth connections. All images and video are highly compressed so that only 300 Kbps is needed to support multiple cameras.
To further conserve bandwidth, CudaCam "shapes" data to spread out the load evenly over time. The cameras use MicroSD cards to store full video in a local buffer and only transmit thumbnail images immediately. The full video is transmitted when the buffer fills, when bandwidth becomes available or upon demand.
A compelling benefit of Bandwidth Shaping is connection recovery. If the camera temporarily loses Internet (and CudaCam) connectivity when using Bandwidth Shaping, IntelEvents recorded during the outage are saved and "recovered" when connectivity is restored - nothing is lost.
No Changes to Your Network
CudaCam cameras automatically connect to the CudaCam service over your broadband connection. The outbound connection is extremely secure and requires zero configuration in almost any network - just plug a CudaCam camera in and it works. This also isolates your network from security threats - no new holes in your firewalls!
Intelligent Threat Management
Patented Real-Time Monitoring Technology
Our patented data mirror reflects real-time video and images to user interface - less than 5 seconds after it happens. The unique NOW mode displays the IntelEvent images as they occur. A quick glance keeps you up to date with what is happening. You can watch the event with a single click, or GO LIVE to see real time video. And everything you see in CudaCam is archived for later access.
Find Important Events without Browsing Hours of Video
To make it easier to find important events in your videos, CudaCam intelligently selects representative images of each video segment when motion or other specific events are detected. If several things happen in one video, you get several images.
Fast Navigation Controls
All of the captured video is segmented into "events" and organized for quick navigation. With the Bar View you quickly select a six hour period from a month of data. The Dash View provides a view of activity in a six hour period across a set of cameras. Click or drag the play head to show thumbnails for multiple cameras to find what you are looking for. If you need a deeper view of events the Thumbnail View shows images for many simultaneously.
When you select an event, it opens a Camera Control for video playback. You can play, pause, jump, and single step the video, access the images, and create SAVED EVENTS. You can also download the video or images to your local machine as MP4s and JPEGs for sharing with other people.
As you investigate IntelEvents, you can save your work with SAVED EVENTS. SAVED EVENTS provide tags (key words to group events together), fully searchable text, and exportable URLs. Any SAVED EVENT is locked in your archive, making sure the important items stay around.
Automatic Security Alerts
Set up alerts with CudaCam, on any camera, based on sensitivity, motion and time of day. Get notified via SMS when someone enters the building after hours. Get an email alert if something is not working correctly in your video solution. And one click gets you to the event in question to start figuring out what you need to do. Alerts are sent by email or SMS.
Centralized Management
All of your connected cameras can be monitored and managed from a simple web-based user interface.
Manage multiple sites, cameras, locations and users from a single account
Bandwidth management and scheduling
Motion alerts and scheduling
Offline alerts
Efficient navigation through recorded video and images with IntelEvents
Specifications:
Camera
Image Sensor
1/2.8'' Progressive Scan CMOS
Min. Illumination
0.01Lux @(F1.2,AGC ON), 0.014 Lux @(F1.4,AGC ON), 0 Lux with Instant Replacement
Shutter Speed
1/3 s ~ 1/100,000 s
Slow Shutter
Supported
Lens
2.8 - 12 mm @ F1.4, motorized lens (-Z), angle of view: 106°~35°
Angle Adjustment
Pan:0° - 355°, Tilt: 0° - 75°, Rotation: 0° - 355°
Lens Mount
Φ14
Day & Night
IR cut filter with auto switch
WDR
120dB
Compression
Video Compression
H.264
H.264 Type
Main Profile
Video Bit Rate
Up to 2Mbps
Audio (-S)
G.711/G.722.1/G.726/MP2L2, 64Kbps(G.711) / 16Kbps(G.722.1) / 16Kbps(G.726) / 32-128Kbps(MP2L2)
Image
Max. Resolution
1920 x 1080
Max Frame Rate
50Hz: Main stream: 25fps(1920 x 1080, 1280 x 960, 1280 x 720); Sub stream: 25fps(352x288), 25fps(640x360)
60Hz: Main stream: 30fps (1920 x 1080, 1280 x 960, 1280 x 720); Sub stream: 30fps(352x240), 30fps(640x360)
Enhancement
BLC/3D DNR/ROI
Image Setting
Rotate Mode, Saturation, Brightness, Contrast, Sharpness adjustable by client software or web browser
Day/Night Switch
Auto/Schedule/Triggered by Alarm In
Network
Storage
VIAAS Secure Cloud, Built-in Micro SD/SDHC/SDXC card slot, up to 128 GB (32GB is included)
Detection
Motion detection, Dynamic analysis
Alarm Trigger
Tampering alarm, Network disconnect, IP address conflict, Storage exception
Protocols
VIAAS Cloud
General Functions
One-key reset, Anti-flicker, heartbeat, mirror, password protection, privacy mask, watermark, IP address filtering, anonymous access
Standard
ONVIF (PROFILE S, PROFILE G), PSIA, CGI, ISAPI
General
Interface
1 RJ45 10M/100M Ethernet interface
Operating Conditions
-30 °C - 60 °C (-22 °F - 140 °F), Humidity 95% or less (non-condensing)
Power
12V DC±25%, PoE (802.3af, Class 3), Max. 5.5 W (Max. 7.5 W with IR illumination on)
Material
Front Cover & Base: Metal
Ingress Protection
IP67
Impact Protection
IEC60068-275Eh, 20J; EN50102, up to IK10
IR Range
20~30 meters
Dimensions
Φ 140 x 99.9 mm (Φ 5.51" x 3.94")
Weight
1000g (2.20lbs)